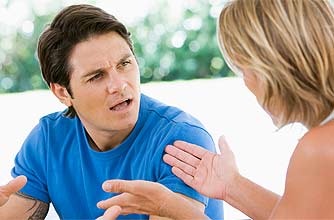 3. Have an end-goal in mind
What you do:
Argue without knowing what you want to achieve. This means you go round in circles or don't know when to stop.
What to do instead:
Assuming it's you who starts the discussion, try to have a goal before things kick off. Think about your ultimate result and possibly somewhere in between you'd be happy with.
That way, when you get drawn into a full-blown argument, you always have something to aim at. It will help you reach some sort of compromise, where hopefully you're both happy.
4. Say sorry
What you do:
Don't take responsibility for your argument and go off in a huff once you've finished.
What to do instead:
We don't mean apologise before you start, because deliberately starting an argument isn't what most people set out to do.
Continued below...
However, once you come to an agreement, it won't hurt you to say sorry about the argument. The two words will mean a lot to your partner and help your relationship immensely.