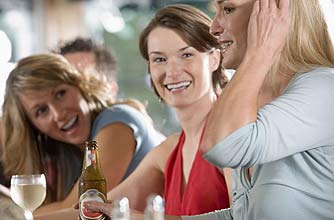 When you become a solid part of a couple it's easy to lose a bit of your own individual identity and let everything become about 'we' and 'us'. This, is mainly what relationships are about - considering someone else's feelings as well as your own, but you don't need it to take over and become all you're concerned about.
Make time for your friends, take an evening out a week to do something that interests you. It's too easy to make excuses as to why you shouldn't do that Spanish class or set up a regular trip to the cinema with a friend - but just do it. What's a few hours out of your week and we bet it'll make you come back to hubby feeling that much happier.
Continued below...
Expert tip
Relate's Mo Kurimbokus says: 'Make time to be alone and to pursue your hobbies and interests. Being a couple doesn't mean that you're no longer an individual. You deserve time to yourself. This will also give you the opportunity to contribute something new and fresh to the relationship.