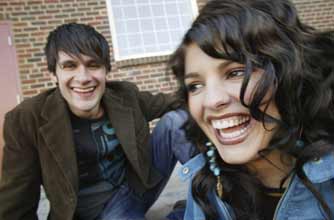 We've advised you to make time for yourself and to go out and do things with friends, but that shouldn't mean you don't have fun with your partner as well. When you're living with someone, you see them at home, watch the telly with them and talk about the kids and the bills and all the practicalities of life and you go out and get your fun and interesting conversation elsewhere. Things don't need to be like that.
It can be hard to make quality time together because we all have busy lives but you don't need to go out to have a laugh. Stay in and chat rather than watching the TV. Play stupid games with each other - do things you used to do when you were dating. You should soon see the benefits.
Mo Kurimbokus, Relate counsellor says: 'Laugh together and spend quality time with each other. Share your funny stories and moments. A good laugh can dispel all the cobwebs and strengthen that bond you have. Learn to relax in each other's company and don't rely on your partner for ideas of where to go and what to do.
Continued below...
Where to next?
-
What stage is your relationship at?
-
Romance tips - Get that spark back
-
Share your secrets of a good relationship in chat