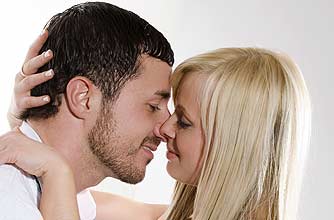 The kiss is basically the first openly sexual act most people are likely to take part in. 'Basically, it's a warm-up for the real thing,' says Judi James. 'Put quite simply the way you kiss imitates how you have sex. It's an act of penetration.'
So according to Judi, these are the signs we should be looking out for:
Accuracy:
French kissing is kind of advertising what you'd be like in bed, so putting a tongue in the right place is pretty crucial.
Confidence:
You want a man to take the lead, but without being too bossy.
Sound effects:
We're talking about pleasant murmurs of enjoyment here, rather than squeals of delight, obviously.
Clashing teeth:
A big no-no. No matter how nervous a man is, this is just a sign of bad sexual co-ordination.
Continued below...
More help and advice
-
Find single men in your local area with our Dating club
-
How compatible are you with your man?
-
We review the top sex toys
-
10 ways to get you in the mood
-
Our guide to aphrodisiacs