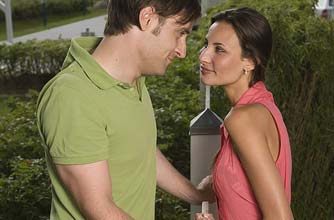 I have been with my fiancé for just over two years. He's 12 years older than me and we have a four-month-old son but for the last two-and-a-half months, my neighbour and I have been kissing and having
oral sex
.
I told my partner on the first occasion that we kissed and promised that it would never happen again, but every time we both have a drink the same thing happens.
I've heard from other people that my neighbour has cheated on his girlfriend 6 times in 6 years but tells me that I'm the only one.
Lately his girlfriend has become all friendly with me, inviting me shopping and to lots of events. I feel really guilty when I'm around her because she's always saying how much she doesn't trust her boyfriend. They also have a baby daughter together, which makes me feel even worse.
I love my boyfriend but he suffers with
anxiety
and
depression
which makes our relationship hard. He's always saying how ill he is and that he doesn't want to socialise with friends but seems to be fine when
he
wants to do something. I cant help but think of my neighbour and want to be with him, but I know that I have a good man in my fiancé. What shall I do?
What do you think about Dani's confession? Should she leave her man or stay with him? Have your say in the comments section below
Continued below...
- Have you got a secret of your own? Send us your story
- Read more secrets and tell us what you think