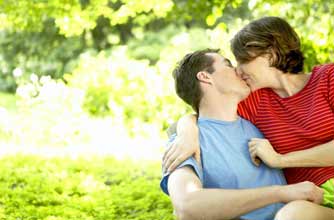 Every week we partner with our sister magazine, Woman, to bring you expert sexual health advice from Christine Webber, a qualified psychotherapist with her own Harley Street practice.
The problem
Yesterday my husband and I had a drink in our garden. We got a bit frisky and had
sex
on the grass. It was so exciting that when I climaxed, my husband had to put his hand over my mouth so the whole street didn't hear! Now he thinks we should have lots of alfresco sex, but would we be breaking the law?
The solution
Sex in the open air can be lovely. There's a wonderful sense of freedom about it. And it feels naughty, which adds to the fun. However, you're right to check up on the law. The Sexual Offences Act of 2003 doesn't specifically say that you can't have sex outdoors. But there are public order offences against outraging taste and decency. In other words, you're fine in an extremely secluded location, but not at the garden centre!
Avoid anywhere you might be disturbed or overlooked, and where other people might be offended. You can't know if onlookers would be appalled or turned on, but it's best to assume they wouldn't like it.
So where can you go? Well, go off the beaten track. A quiet beach can be great, but don't cavort on a designated naturist spot. People who go there may be unruffled about nude bodies but could be seriously upset about any sexual display.
There are other drawbacks to beaches. Pebbles. Ouch! And as for sand, it can be very sore if you get it in your vagina, or your man's penile opening. Best to take a rug.
As for the sea, it can be surprisingly difficult to get the penis inside you, because of the swell of the waves, but you can have fun trying.
Maybe the ideal spot is lovely lush grass somewhere, so hidden that only you know about it. Enjoy!
-
Read more sex advice from Christine Webber
- There's more advice from Christine in this week's bigger better WOMAN, on sale every Tuesday.



Continued below...



- Is your relationship in need of some sexual healing? Email your problem to Christine on sexplanations@ipcmedia.com or to us on goodtoknow