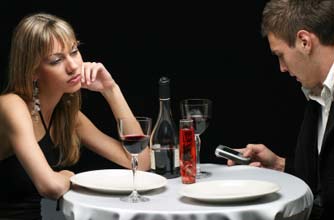 Get a friend to give you a call mid-way through the date so you can say you have to leave if it's going badly. We know it's an oldie but it could save you from a night of misery!
Meeting someone new is always a nerve-wracking experience. Will he like you and will you find him attractive? But, are there some things that would just instantly put you off a man?
When we polled Goodtoknow users, you said the things that would most put you off a fella were:
1. Body odour
2. Arrogance
3. Smoking
4. Bad manners
5. Bad dress sense
For all of you who are back in the
dating
game, we've got dating expert and author of
A Brand New Me
,
Shari Low
, to outline her top five things a bloke can do to instantly wipe out the possibility of date number two. Some of them are the same as yours, but some are a bit different.
Read through and don't forget to tell us about your dating disasters in the comments section at the bottom of the page.
1. Talking about the ex
A conversation about his last relationship never results in anything good. If he goes on about how his ex is a devious twisted old tart - he just comes off as bitter and borderline scary.
If he spends two hours weeping into his korma about how his ex left him for her gym instructor - you know he's not ready to move on.
And if he so much as hints that she was beautiful/stunning/Claudia Schiffer, then you'll be spending the rest of the date holding in your stomach and sucking in your cheeks, which just isn't worth it.
2. Bad dress sense
Yes, it's shallow but appearances do matter! If there's a hint of shiny fabric or pastel colours, steer well clear. Similarly, that middle-aged long-haired rocker works on Jon Bon Jovi and only Jon Bon Jovi. On anyone else it will bring on nightmares.
3. The bill
Did you burn your bra before you left the house? No? Well in that case he should offer to pay for at least half the bill. Extra points if he pays for all of it. It might sound like we're from the 50s but a little door opening, coat holding and bill paying won't hurt anyone.
4. Endless talking or boasting
When he's been going on so long you've fantasised about the waiter, re-organised your wardrobe and thought about every event in your life since you were young enough to be bounced on your gran's knee, it's time to take action. eg. faint into your naan bread.
The same goes for boasting. It's great that he climbed Mount Kilimanjaro with his legs tied together and that his boss has begged him to never, ever leave but he'll also hold the record for the least number of second dates ever.
5. Hygiene
Finally, the old smelly chestnut, personal hygiene. If he's scored highly in every other field it would be a shame to write him off purely because of his bad body odour or horrendous
halitosis
, but maybe take extra measures next time - have a packet of mints on hand to offer.
What do you think about Shari's top five? Do you agree? Tell us your worst date stories and the things that would make you run for the door in the comments section below.
Where to next?
-
Join our dating club - it's two months for the price of one!
-
Find out why there's a science behind who we're attracted to
-
Get 10 tips to make online dating a success