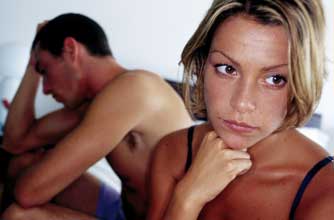 'I don't know who the father of my child is'
Just before I got pregnant with Sammy, my boyfriend Gavin and I were going through a rough patch. One night I stormed out and went to my friend Terry's house - one thing lead to another and I ended up staying the night. I've never told Gavin, but I can't help wondering if he is Sammy's father. I'm too scared to find out.
Read the problem in full
Relationship therapist, Julia Armstrong says:
It seems your night with Terry was your way of dealing with the
stress
in your relationship with Gavin. Life is a series of choices, and there are always consequences.
Now that Sammy's here you must think about her as she's totally reliant on you and Gavin.
She needs unconditional love to feel safe. This means you and Gavin should consider doing some work on your relationship.
Think about the reasons that you went to Terry for comfort and try to solve those issues. Hopefully you'll be able to work through your problems, and move on from what happened.
It's up to you to decide whether to tell Gavin the truth about Terry. If you think it will help you to deal with your issues as a couple, then tell him. But if you're only doing it to ease your conscience, it might not help Gavin to know.
'I love my best friend's husband'
I've known Gail for almost 25 years - we've been through everything together, but I'm totally in love with her husband Will. Nothing has ever happened and I'm not even sure if he even knows. I'm also very much in love with Gary, my husband, but I do gaze at Will sometimes and wonder if the grass would be greener. I'll never be able to tell Gail my secret, because it would ruin our friendship. What should I do?
Read the problem in full
Julia says:
It's natural to find someone other than your partner attractive. In a way it's 'safe' to fantasize about Will as he's been with Gail all the time you've known him.
You might see Will as the perfect sexy man, but just thinking about him is different to having a real relationship with him. If you were together it would probably be quite different from what you imagine.
What do you like about Will? Maybe there's something about him you admire, and you wish you could be more like him. Perhaps you want to see yourself as strong and sexy and funny, which is why you find him attractive.
Now turn towards Gary and find ways to improve your relationship with him. Harville Hendrix has written a great book called
Getting The Love You Want
which will give you ideas to deepen your connection with Gary.
Visit Julia's website:
www.juliaarmstrong.com
Next: He cheated then I cheated
Continued below...
Where to next?
-
Share your secrets and problems
-
Read more secrets
-
Romance tips