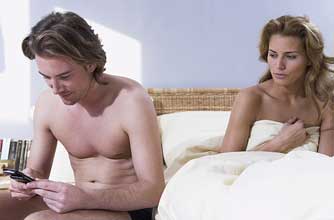 'He cheated then I cheated'
My boyfriend and I have been together for over a year. We broke up for a while because he cheated on me. When we got back together he cheated again. Since then I met up with a friend and we had sex. I thought I'd feel guilty but I don't. Should I try to work things out with my boyfriend?
Read the problem in full
Relationship psychotherapist Paula Hall says:
It sounds as if your relationship really isn't going well at all and trust is being lost on every side.
You really need to decide whether or not being in this relationship is important to you. If it is, you need to sit down with your boyfriend and talk about how to make sure both of you are equally committed.
You may not have felt guilty because you're still angry with your boyfriend, or it could be that you're not really committed any more either.
It seems that neither of you are really sure any more. Unless you can work this through now, it's only going to get worse.
If it feels too painful for you to walk away now, then give it another 6 months - but if history repeats itself then it's definitely time to say goodbye.
'I'm 38 and I'm dating a 19 year old'
My boyfriend, Ben is nearly 20 years younger then me! When I told my mum about him she said it was disgusting and I had to end it. My 16 year old son was really unhappy too. So I've been seeing Ben in secret. I don't know what to do.
Read the problem in full
Paula says:
20 years is a very big age gap - especially at the ages you both are. This may feel great now, but you need to think about what kind of future you could have together.
There's no doubt that age gap relationships can work, but they bring a whole load of problems with them - some of which you've already experienced.
If you're going to continue this then you need to be sure that it's definitely more than infatuation. You need to ask yourself if this is someone that you want to have a future with and know that he wants to have a future with you too.
If this is going to be long term then you'll need to work hard on your relationships with your family and your son to help them to see how important this is to you.
Unfortunately it's impossible to change someone else's mind so if your mum and son are convinced that this relationship is wrong, then there's not much you can do about it.
Ultimately you may have to choose between gambling with this relationship or gambling with your family.
The charity Relate can help you if you're having relationship problems. Visit their website:
www.relate.org.uk
Continued below...
Where to next?
-
Share your secrets and problems
-
Read more secrets
-
What to do if he's having an affair
-
How to survive a break up