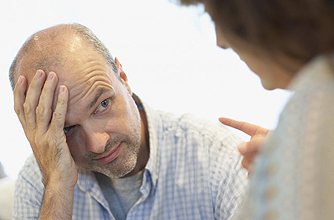 We've teamed up with our sister magazine Woman's Own and their counsellor Emma Marlin to solve your relationship problems. This week she helps a woman whose husband is depressed about the possibility of losing his job.
The 3-step fix
Q. My husband has worked for the same company for 16 years and was recently warned by someone higher up that there may be redundancies in the next 6 months. We have some savings and I also work, but he is already very depressed. He has always been a glass-half-full person, but this news seems to have sent him into a downward spiral. What can I do? He's in his 50s.
Sally, Essex
Emma's advice
I'm sorry to hear this news, but glad you are being so proactive! I did some research on your behalf and there are three things financial experts recommend.
1.
Book an appointment to see an independent financial adviser at
searchifa.co.uk
. They can work out whether you need redundancy insurance and/or investigate other steps you can take to shore up your financial position.
2.
Visit
moneysavingexpert.com
, which tells you what to do if redundancy is looming - such as moving your credit card debts to a 0% interest card, renewing car insurance and remortgaging. These are all much cheaper to do while you are still in employment.
3.
Listen. Let your hubby have his feelings and resist the urge to tell him to 'stop feeling sorry for himself'. Encourage him to talk and remind him that it's his job being made redundant, not him. If his depression worsens, he may benefit from a
counselling referral
from his GP.
More help and advice
-
Get all the facts about depression
-
How to mend a broken relationship
-
7 secrets of a good marriage
Continued below...
There's more relationship advice from Emma this week in Woman's Own, on sale every Tuesday.