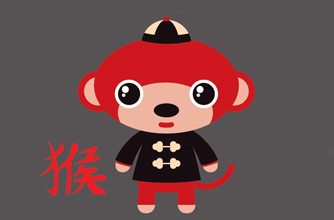 9. Chinese horoscopes: Monkey (1920, 1932, 1944, 1956, 1968, 1980, 1992, 2004)
Good traits:
Monkeys are born entertainers! They love being centre of attention and can be mischievous and very clever. With great minds for plotting and problem-solving, Monkeys are resourceful and give excellent advice. They make great bosses and enjoy leading others. They're also good at motivating people and are always polite and friendly.
Bad traits:
Because of their determination to achieve their goals, Monkeys can be a bit thick-skinned and oblivious to other people at times. They have a tendency to be a bit self-centred and vain, and their outward confidence may be a little overbearing to the other signs of the Chinese zodiac.
Monkeys in a relationship:
Monkeys are fun-loving people who use humour to attract the object of their affection. They have a tendency to be promiscuous and flirtatious and are attracted to the excitement of romance. Monkeys find it difficult to commit and can be unpredictable in the early stages of a relationship. Once committed however, Monkeys are the most loyal of all the signs and attach themselves to their partner fully. They can be very open about their feelings so expect a real roller-coaster of emotions. Because of this, a Monkey's perfect partner will be open-minded and not overly sensitive.
Sex:
Monkeys are intense, entertaining lovers who love lots of excitement. Monkeys are easily bored and need to be stimulated sexually to keep their interest. They are very adventurous and energetic in bed and will stop at nothing to achieve pleasure.
Best sexual partner:
Dragon and Rat
Least compatible with...
Tiger
Best sex positions for Monkeys:
Positions which are adventurous and experimental like the
Spider
or
Lust and Thrust
Famous people born in the Year of the Monkey:
Kerry Katona, Kylie Minogue, Richard Madeley, Tom Hanks, Diana Ross, Rod Stewart and Elizabeth Taylor.
Corresponding Western horoscope:
Leo
Continued below...
Read on for the other animals in Chinese horoscopes