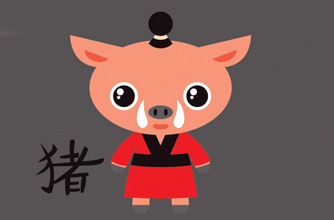 On our Twitter page @Katylikesyou said: 'I'm the Pig. Apparently I'm gulliable and I enjoy life. Both spot on!'
12. Chinese horoscopes: Pig (1923, 1935, 1947, 1959, 1971, 1983, 1995, 2007)
Good traits:
You can depend on a pig for being hardworking and trustworthy. They're very passionate about what they believe in, but always think about their actions and how it will affect other people. They're friendly and thoughtful and stay calm under pressure. Pigs are dependable, caring and great listeners. They form strong friendships and often put others' needs before their own.
Bad traits:
Because pigs have so many friends they can rely on others too much and forget about themselves! They can be rather gullible and easily led. Pigs are also guilty of being a bit miserable and often thinking the worst. They have a rather bossy streak and can be quite competitive at times.
Pigs in a relationship:
Pigs are dreamers and real romantics. They tend to believe in 'the one' and will hunt around and try to find that perfect partner. They can be a little bit naive and idealistic which can lead to disappointment when expectations aren't met. Pigs have a very trusting nature which means they can be taken advantage of when it comes to relationships. Once a Pig is in a meaningful relationship they're very romantic and affectionate but paradoxically hate to feel trapped.
Sex:
When it comes to bedroom activity, Pigs love to be wined and dined, with plenty of foreplay and build-up to sex. They enjoy more intimate positions which are relaxing rather than energetic or wild. A creature of habit, Pigs tend to stick to a particular position and may need encouragement to try new things.
Best sexual partner:
Sheep and Rabbit
Least compatible with...
Snake
Best sex positions for the Pig:
More relaxed and sleepy sex positions like
Sexy Spoons
and
TV Dinner
Famous people born in the Year of the Pig:
Cheryl Cole, Arnold Schwarzenegger, Amanda Holden, Steven Spielberg, Dannii Minogue, Emma Thompson, Jon Snow, Elton John, Lorraine Kelly, Gary Barlow and Simon Cowell.
Corresponding Western horoscope:
Scorpio
Where to next?
- Try even more
sex positions
- Are you and your man a match?
Horoscope love compatibility
- Trying for a baby this year?
Sex positions for conception
Chinese New Year food treats
- Try some tasty ways to celebrate
Chinese New Year
Continued below...
And if that's not enough, we've got loads more
Chinese recipes
for you to choose from.