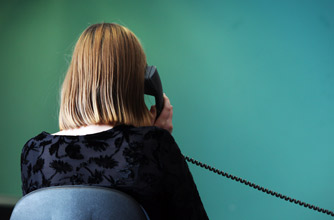 Reporting a rape is not only vital for the safety of the victim but also the safety of others. And while it may seem a daunting prospect, there are many steps which can be taken before the rape is officially reported to the police.
Why does rape go unreported?
Research into rape consistently finds a wide gap in the number of women who believe they've been raped, and the number reported to the police. And while there are individual reasons a woman won't come forward to report her attack, generally many rape victims are too afraid that they won't be taken seriously, or feel that they're to blame for what happened. They may be too embarrassed and ashamed, or are worried about the physical evidence and examination. They may even be in denial that they've been raped.
It can be particularly hard for a victim to report a rape by a partner or a family member to the police. She may be particularly concerned about being believed if she's slept with the man before and she may be worried of the impact it will have on others. She may also be afraid of her rapist and fearful for her personal safety should she come forward to report him.
Getting help without officially reporting it
If you don't feel ready to talk to the police, there are other things you can do and other people who can help.
Speak to a friend you know you can trust. It's important that someone else knows what's happened to you. If it's a recent rape, make sure you go to a safe place - a family member or friend's house. If you're reporting a partner or family member, there are charities who offer housing and support - try Refuge.org.uk
Visit your local Sexual Assault Referral Centre (SARC) and talk to a doctor about what happened to you and how you feel. The doctor can take forensic samples for analysis without it officially being reported to the police. If you choose to go ahead with the official report; the police can then use these samples. At your local SARC you can also talk confidentially to a specially trained police officer about your experiences and what might happen if you officially come forward. This might help you come to a decision.
Speak to your GP as they can offer medical advice and refer you to your local SARC
It's important to remember that it's completely up to you if you choose to report the rape to the police and you can take as long as you like to make the decision.
Continued below...
Reporting the rape to the police
If the rape has just happened make sure you don't wash, change your clothes or clean anything up as in most cases the police will need to collect forensic evidence. If you've done these things already, try not to worry as the police should still be able to collect other evidence
Do remember that even if the rape happened some time ago and there's no physical evidence for the police to collect, you still have every right to report it. The police will take it as seriously as they would if there was physical evidence
You may wish to go to your local SARC before reporting the rape to the police, or you can go straight to your local police station and begin proceedings. At the police station you'll be referred to a specially trained Sexual Offences Liaisons Officer (SOLO)
You can still receive medical attention without making an official police report - and this is important if you have any physical injuries, need STI testing or emergency contraception
It's important you make sure you get support beyond the police, and there are many organisations who can help. Rape Crisis, the Havens and Victim Support all specialise in rape trauma and counselling. See our sexual violence helplines directory