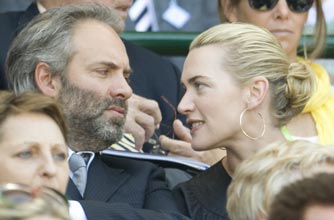 Relationship problems file
Case: We've recently separated. How will it affect us?
When a high-profile couple like Kate Winslet and Sam Mendes split, it's big news, especially when there are kids involved. The anxiety of how the separation will affect the children is always the first worry on any parent's mind whether they're a celeb or not.
If you've recently separated from your partner and have kids together, you're probably wondering what on earth you can do to make the split easier for your kids to cope with, and of course, how you're going to deal with the upheaval in your own life.
When it comes to your kids, relationship councillor
Mo Kurimbokus
from charity
Relate
has this advice:
'Both mum and dad need to give lots and lots of love and reassurance to their children especially in times like this. Reassurance that mum and dad not only love them, but will be there to help and support them; they just won't be living under the same roof together anymore.
'Children need reassurance that the split is not their fault. Offer them as much security as you can - children need routine so try to make sure that you can establish a routine for them. Give them an understanding as to why the split has happened without having to go into the 'adult' details.'
If your split isn't really an amicable one, it's important to try not to drag the kids into any arguments with your partner.
Mo says: 'Don't use the children as a 'ping pong' or as mediators for the two of you. Listen to them; try to understand how they must be feeling and how difficult things are for them too. Allow them space to be upset and to grieve.'
Have a look through our
tips for dealing with separation
and the
dos and don'ts of telling the kids
about your separation or divorce for even more advice.
Getting yourself through a split
Ideally it's good to have as little as possible to do with your ex partner, but this isn't always ideal when you've got kids together.
Mo says: 'Where children are involved, you'll need to keep in contact with each other in order to ensure your kids receive the best possible help support and guidance. Ironically, it's the communication that would have been at the root of many couples splitting up in the first place and it's good, clear communication between the splitting adults that's needed here. Stick to discussing practical issues and avoid the emotional ones connected to your relationship. In time, you'll be able to separate from each other while maintaining a civil relationship.'
He adds: 'As adults, give yourselves permission to cope with the loss of your long-term relationship. Take your time before starting another serious relationship. It'd be a good idea also to look at yourself and your relationship and try to understand where things might have gone wrong in order to prevent this from happening again in the future. The help of a professional counsellor could be really helpful.'
Continued below...
Have a look through our feature on
divorce - what happens next
or our advice on
how to survive a break-up
for even more relationship advice.