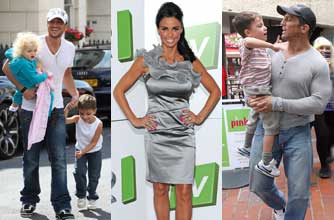 Relationship problems file
Case: I'm jealous of my ex's new partner looking after my kids!
When kids are involved, a split is never easy. It's hard enough having to cope with parting with your kids for a portion of the week while they stay with your ex, but even harder to cope when your ex has a new partner who's looking after your kids.
And just like Peter Andre's learning to cope with Katie Price's new husband Alex Reid spending time with his kids and becoming a new father-figure to them, when a new partner comes along it can throw up a whole host of new issues.
Dr Pam says: 'This is a very difficult situation and it takes nerves of steel, determination and patience. Most important of all you need to place your children's welfare above your own jealous and resentful feelings. You and your ex-partner should discuss how your children are to be treated by their new step-parent. Will the step-parent be involved in disciplining them, and maybe more time is needed for them to strengthen their bonds before the discipline and rule-making happens? Decide what form disciplining will take and also what sorts of treats and rewards they'll get for good behaviour or outings. This can also be a thorny issue when a biological mother feels the stepmother is spoiling her children to gain their affection.
'You must hash out a compromise over any massive differences over childcare techniques. Be patient and reasonable even in the face of difficult negotiations. You only make things better for your children if you handle these delicate issues with care and don't get dragged into yet more animosity and arguing.'
How to make it work
Hard as it might be, sit down with your ex and discuss some ground rules for the kids which everyone must follow-through with. Make sure you're both agreed on them and feel happy with them
Try to put your differences to one side and show a united front for your kids. It's important to show the kids you all care about them and you all want what's best for them. You don't want to put your kids in the middle or create resentment towards your ex's new partner
Make sure the arrangements for your kids are fair and decided equally. Keep to a set routine where possible and try not to disrupt it
For your own sake, try to keep as separate from your ex and his new partner as possible. Try not to ask the kids for information about them and try to focus on moving on with your own life.
We've got even more info on how to cope with your new family situation in our feature on
how to grow a happy family
. Or try these
how to deal with a step-family tips
Continued below...
Where to next?
-
More relationship advice
-
Sex tips
-
Your real life sex stories