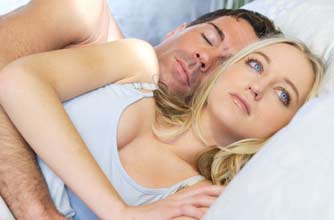 We've teamed up with our sister magazine Woman's Own and their counsellor Emma Marlin to solve your relationship problems. This week she helps a woman who finds it difficult to get in the mood for sex and it's affecting her marriage.


Q I've been married for eight years and have three children, but lately I have gone off sex. This is causing major problems with my husband. I'm tired out by the end of the day from looking after the children and go to bed before him. He's now working longer hours, so gets up much earlier than me. I'm sick of him telling me to make an effort.
- Anonymous



Emma's advice


Kids and long hours at work don't make for a lively sex life. But your children are relying on you to maintain your relationship with their dad. You need to talk about your feelings to your husband and re-establish intimacy.
Sex is important in a healthy relationship. Begin by telling your husband you love him and that your rejection of sex is not a rejection of him.
Ask your husband to help you get back in the mood for love. Pick a night when you can both get the kids to bed early and then get yourselves an early night. too!
Get naked and stay awake long enough for you to show him the true meaning of making an effort. If you're still awake after that, have a chat about spending more quality time together.
Continued below...
Still looking for more advice?

- See more Ask Emma

- Relationship advice

- The latest from Woman's Own