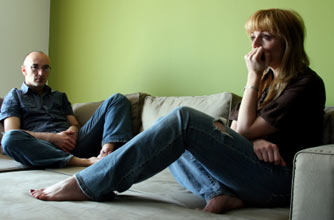 We've teamed up with our sister magazine Woman's Own and their counsellor Emma Marlin to solve your relationship problems.
This week she helps a woman whose partner wants to sell the family home.



Q I recently discovered my husband's been sending and receiving suggestive texts to another woman. He denies anything went on and now I find myself doubting our relationship and marriage. I can't stand the thought of sex with him. We're both in our fifties, have been married for two years and were, I thought, very happy.

- Kim, Scunthorpe
Emma's advice
I get a lot of letters from women whose husbands cling to a similar strategy of denial - right down to the part where they get angry and defensive when you try to talk it over. The most useful response is to stop talking and start writing. Just like this letter, you need to be brutally honest about how you feel. But you need to add something else - what your husband can do to make it up to you. Focus on a concrete thing your husband can do, give or say. For instance, you may want a written apology. Or you may need a huge bunch of flowers and a promise that you can check his mobile phone/computer whenever you like. Hopefully he will do what you ask and you can then accept he made a stupid mistake.




Continued below...



Still looking for more advice?

- See more Ask Emma

- Relationship advice

- The latest from Woman's Own