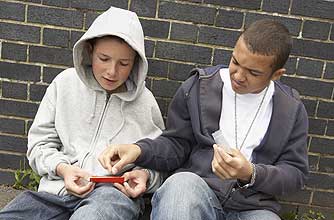 We've teamed up with our sister magazine Woman's Own and their counsellor Emma Marlin to solve your relationship problems. Here is her three-step fix to dealing with a son who's started smoking legal herbs.


Q Last week my son told me his elder brother, who's 16, was smoking 'something' in his room. I talked to my eldest about this and he said he'd been smoking legal 'herbs'. I smelt them and could tell it was not marijuana. He has his A-levels coming up and although we have a good relationship, I feel lost as to how to deal with this.
- Iris, Devon
Emma's advice


It's great you and your son have a good relationship because that is the most powerful weapon you have in terms of helping him understand the consequences of getting high - be it legal or otherwise. Here are 3 other tips.
Step 1. It's natural to be angry, confused and upset when you discover your teenager is experimenting with drugs or drug paraphernalia. Wait until you've cooled down before you initiate a longer chat.
Step 2. When the time comes to discuss what's happened, try not to judge or create arguments. The truth is that most teens are tempted to dabble in some sort of drug-taking. Sometimes it's peer pressure, sometimes it's to escape. If you have taken drugs in the past, now might be a good time to tell your child about your experiences and why it was important for you to stop as well as point out your concerns about what you've discovered.
Step 3. Looking forwards, monitor your son closely and bring the conversation up again as and when you need to. For more info and support look at www.talktofrank.com and call Parentline Plus on 0808 800 2222.




Continued below...



Still looking for more advice?

- See more Ask Emma

- Relationship advice

- The latest from Woman's Own