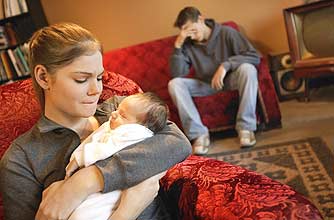 We've teamed up with our sister magazine Woman's Own and their counsellor Emma Marlin to solve your relationship problems. This week she helps Anita who wants to try for another baby but her husband doesn't.


Q Five months ago my husband lost his job. We are living off my salary while my husband retrains, which will take another 10 months. Despite this, I'm desperate to have a second baby as I'm now 38. He says we can't afford it. My job is secure and I don't think a second baby will cost that much as we already have all the equipment from the first one. Please help, this is causing real friction.
- Anita, Middlesbrough
Emma's advice


Try putting yourself in your husband's shoes. Many men have a strong need to 'provide' and feel inadequate if they can't, so think about this baby from his perspective. Look at your bills and your bank statements. Here you are with no job, not enough money, relying on your wife to bring home the bacon....could you get excited about a second child?


You're right, it won't cost much as your first financially, but for your husband the stress cost is more than he can afford right now.


With this in mind, I suggest negotiating a time line. If all goes to plan your husband should have a new job in 12 months. Perhaps you can agree that you can wait one year before you start trying. If he still doesn't have a job then, you still start trying. Thrash out the details, and when your second child comes, your relationship will be stronger for it.




Continued below...



Still looking for more advice?

- See more Ask Emma

- Relationship advice

- The latest from Woman's Own