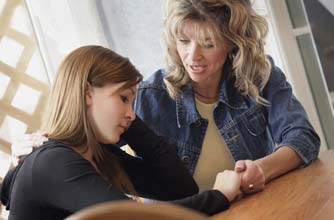 We've teamed up with our sister magazine Woman's Own and their counsellor Emma Marlin to solve your relationship problems.
This week she helps a woman who is worried her relationship with her ex affected her daughter.



Q I plucked up the courage to throw my partner out last Christmas - we'd been together for 10 years. He'd cheated on me, run up debts and lied about so many things. We have a daughter who is 10, and when I look back I feel guilty that she had to put up with me being so upset and angry all the time. Have I messed her up?
- Geraldine, Liverpool
Emma's advice


Dealing with the break-up of a relationship is incredibly stressful and it sounds like you've done your daughter a favour by removing his chaos from her everyday life. Here are 3 other steps I recommend you take...



1. In general, kids needs lots of patience, reassurance about your love for them and a listening ear in the wake of parental separation. Rather than looking back and upsetting yourself about the past, try to shift your focus to what you and your daughter need right now.
2. It's normal to need extra support during this early phase of your break-up. Contact a support group such as Parentline Plus which can offer you help and advice. Likewise, if your daughter seems withdrawn, overtly angry or disturbed, there is lots of help available to her through school so do mention your changed circumstances to her teacher.
3. Whatever has happened, don't let your daughter get caught in the middle of your dispute. Save bad-mouthing your ex for when you're in the pub with friends! And remember she will need regular contact with her father. For more tips and advice please visit www.kidsinthemiddle.org.uk




Continued below...



Still looking for more advice?

- See more Ask Emma

- Relationship advice

- The latest from Woman's Own