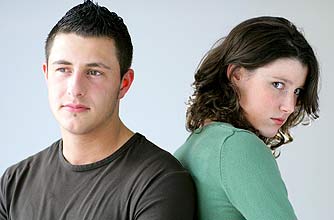 We've teamed up with our sister magazine Woman's Own and their counsellor Emma Marlin to solve your relationship problems. This week she helps a woman who thinks her son-in-law has become off with her.



Q My daughter and I have always been close. She's married and has two children. The trouble is that they went through a tricky patch last year and her husband got it into his head that I was encouraging her to leave. This isn't true. I was always careful and never took sides. Despite this, he has become very off with me. What can I do?
- Katherine, Essex
Emma's advice


You know that you didn't take sides, but how does your son-in-law know that? Rightly or wrongly, he got it into his head that you were ganging up on him behind his back. Is it possible your daughter may have said something that pitted you against him? In any case, the most efficient way to deal with this is to have a quiet word with him. Say something like, 'I want to clear something up with you. I never encouraged my daughter to leave you. She did confide that you were in a rough patch but I never took sides. I know how hard having young kids can be on your relationship and my main concern is to support you both and spend time with my wonderful grandchildren.' Hopefully, this kind of forthright reasurrance will draw a line under the past and take the heat out of future visits.





Continued below...



Still looking for more advice?

- See more Ask Emma

- Relationship advice

- The latest from Woman's Own