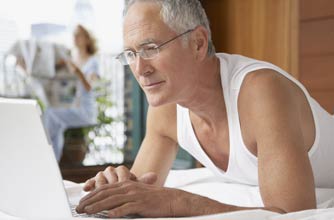 Continued below...
Woman's Own counsellor Emma Marlin solves your relationship problems. Here she helps a woman who is worried about her partner looking at porn sites.
Q. Last year my partner became severely depressed. During his illness he cut himself off from me and our two children and he's since revealed that he became obsessed with porn sites during that time - some of which he now admits were 'illegal'. He realises it was wrong but his new anxiety is that the police will come for him. What should I do?
Kate, London

Emma's Advice
A. You don't specify what sort of 'illegal' pornography your husband viewed. If it was adult hard-core stuff, no matter how violent or sordid, chances are the police won't be interested. But if the images he viewed involved children, that's not porn, that's images of child abuse and the police may well come knocking at your door, especially if your husband communicated with other site users and/or shared the images. Please call the Stop it Now! freephone confidential 0808 1000 900 helpline for advice, support and information. They can help you and your partner find the specialised counselling you need to deal with this complex situation.