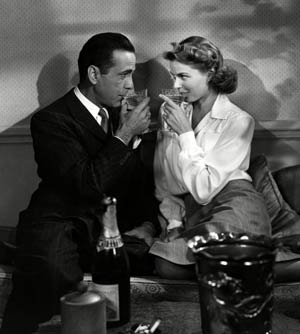 Kissing tips - The smouldering gaze!
When was the last time you and your fella looked at each other like this? The chemistry between Humphrey Bogart and Ingrid Bergman in Casablanca is incredible even when they're not kissing!
Do it yourself: Relax with your man over a drink and start flirting! Maintain strong eye-contact with him and give him long, lingering looks. Try subtle 'come to bed eyes' and you'll have him utterly mesmorised. It's only a matter of time before you'll have a passionate kiss!