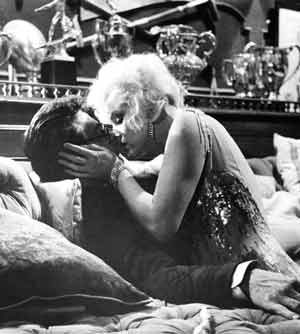 Kissing tips - Pounce on him!
Get passionate Marilyn Monroe style by wearing a killer dress and taking the lead! In Some Like It Hot, Tony Curtis (swoon) drives Marilyn wild and gets her to make the first move. If you do the same, your man will love it!
Do it yourself: Put on your hottest dress and pounce on him! Straddle him and put your arms around his head. Hold his head and control the kisses with your mouth. Start with closed mouth kisses, then up the passion by gently easing your tongue between his lips and start to French kiss him.