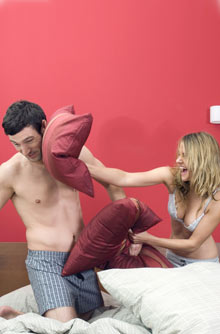 4. You shall share lots of laughs!
A couple who laughs together, stays together! Sharing a sense of humour is one of the foundations of your relationship and is probably the thing that attracted you both to each other in the first place! It's not always easy to see the funny side of things, but if you both make an effort to laugh together more you'll find the giggles come naturally.
Relationship advice: Remind each other of funny experiences you've shared, be playful, rekindle your in-jokes, and create some new laughs by spending quality time together!