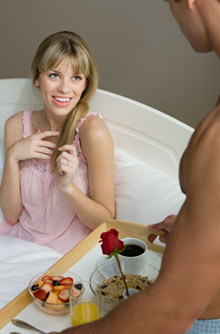 8. You shall keep things exciting!
We all get a bit set in our ways in relationships, so it's really important to keep things interesting! Whether it's having your own little traditions like breakfast in bed on Sundays or a massage on Fridays, relationship treats shouldn't be something you just do on anniversaries or birthdays.
Relationship advice:
Start treating your partner more often! It doesn't need to be anything fancy, from cooking his fave meals to taking him to the footie, nice surprises will inject a bit more excitement into your relationship and bring you both a lot closer. And you'll inspire him to return the favours!
Romance tips