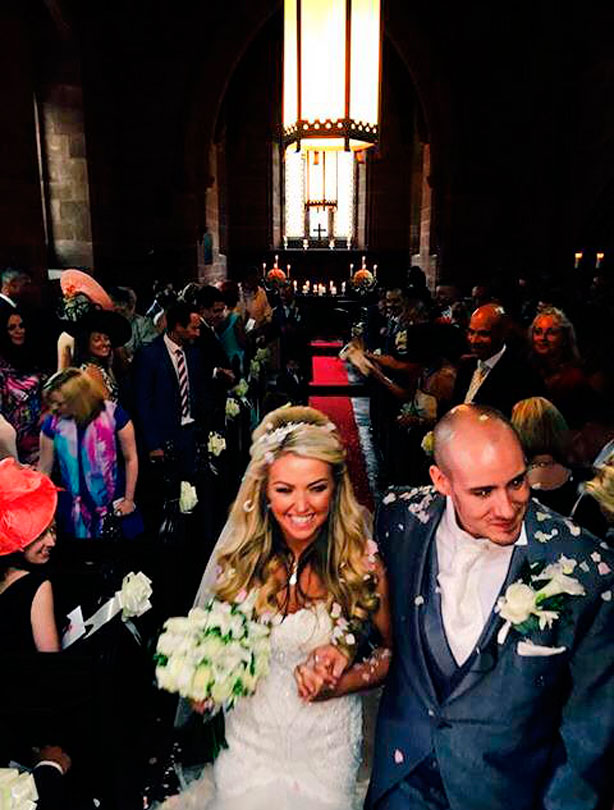 Celebrity weddings: Kelly-Marie Stewart
Former Hollyoaks actress Kelly-Marie Stewart has defied a debilitating illness to walk down the aisle on her wedding day.

The 31-year-old, who played Hayley Ramsay in the Channel 4 soap, was left wheelchair-bound 10 years ago after contracting Guillain-Barre Syndrome, a condition which attacks the nervous system and left her paralysed from the waist down.

However, before her wedding ceremony on August 30th, Kelly-Marie dedicated herself to months of neurological physiotherapy, and her hard work paid off as she managed to walk with her father to meet groom James Loveday at the altar.

'Everyone was on such a high after all the tears,' the newlywed told the Liverpool Echo. 'We only invited close friends and family, so everyone in that room were people who had thought I?d never get out of the wheelchair, they were the people who had been on that journey with me for the last 10 years.'

'Everybody knew I was constantly having physio for the last 18 months and I was doing all I could to walk down the aisle, but I?d had a few wobbles along the way.'

'I got emotional walking with my dad. I wanted to surprise him as well as James. They knew I had intentions of walking but they didn?t push me in case I couldn?t,' she explained.

'I went to bits saying my vows. I was sobbing the day after because I was so happy but I didn?t want to do it again because it couldn?t have been more perfect.'

Congratulations Kelly - you make a beautiful bride and we're sure your family couldn't be prouder!