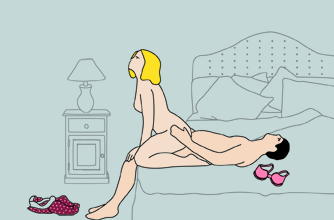 Reverse cowgirl
Great for...
Hitting that magic G-spot.
How does it work?
Well, it's sort of a cross between doggy-style and the classic Woman-On-Top position. Your man lies flat on the bed with his legs hanging over the edge.You climb on top of your man but face away from him and lean forward with your arms, resting on his knees or thighs. Angle his penis downwards slightly and let him enter you. Then rock back and forth for an incredible, G-spot-hitting sensation.
The turn-ons:
You control the speed, angle and movement and if you enjoy watching yourself having sex in the mirror, this position will give you the best view.
The turn-offs:
Not so much physical contact.
Difficulty rating:
2/5 You should pick it up very quickly and can tailor it to your fitness.
Fun rating:
5/5 Your man will go wild for this and you'll feel like the sexiest woman alive!
You say:
'I always try this one at the start'
Buy Now: Best selling sex toys at Amazon.com