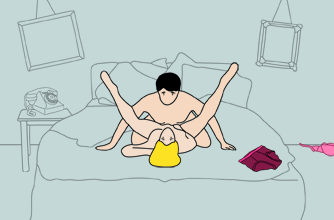 The Organ Grinder
Great for...
Deep penetration.
How does it work?
You lie on the bed with your legs apart and raise them up in the air. Your man kneels in front of you and leans forward in between your legs. He then thrusts back and forth and you keep your legs up in front of his arms.
The turn ons:
This positions allows your man to penetrate you deeply and is another great angle for hitting your g-spot.
The turn offs:
You have to keep your legs up, which can start to ache after a while.
Difficulty rating:
3/5 If you can bare the leg strain, it's a piece of cake!
Fun rating:
4/5 Definitely up there with the best of them.

You say:
'I really like this one. It hits my G-spot every time'