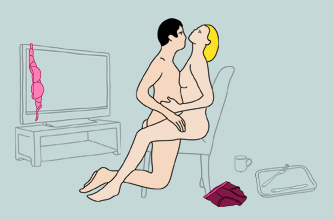 TV Dinner
Great for... Oral pleasure for you and fast sex
How does it work? Sit on a chair or your sofa and scoot forward so you're sitting fairly close to the edge. Now get your fella to kneel in front of you between your legs and slowly slide into you. Now he can grab your thighs and you can pull him onto you by his waist or bum. Things can get very fast and furious very quickly.
The turn-ons You should like this sex position, because he can use his mouth on you first, before you reach a fast, powerful orgasm together.
The turn-offs You may need to wriggle around a bit to make sure you're both in the right position
You say: 'OMG that was awesome! Truly the ideal position for me and my not-so-fit-man!