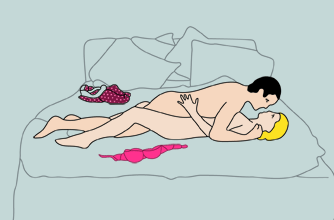 The Cat
Great for...
Female orgasm - great for women who don't usually come during sex.
How does The Cat work?
The man lies on top in the same way as the normal missionary position and enters the woman, but then he moves his body up the woman slowly, until he's as high as he can get without hurting himself. Then, instead of thrusting, he grinds into you slowly in small circles. This is great for the woman, because her clitoris is being stimulated by the base of his penis.This position is also known as the Coital Alignment Technique ( where the cat name comes from) and is recommended by lots of sex experts, including our own Christine Webber!
The turn-ons
It's almost guaranteed to give a woman a very deep, satisfying orgasm.The turn-offsIt relies on the man keeping up this slow movements and, let's face it, we know he wants to move far more energetically than that normally.
You say:
'Everyone's going crazy for this sex position! Apparently it was on TV in the US as the best position for an orgasm...'
Add a sex toy
: The closeness of this position makes it a great one to try with a vibrating cock ring.
Buy now: Bedtime Bullet 10 Function Vibrating Cock Ring Set at Lovehoney.co.uk from £16.99