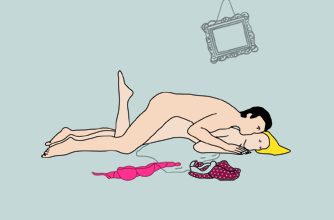 Speed bump
Great for...
Fast and passionate sex
How does it work?
You lie out flat on your stomach with a cushion under your belly and pelvic area. He lies on top of you, you spread your legs and he enters you, you'll be orgasming for England before you know it!
The turn ons
It's a great position for a quickie as things can get quite fast and furious.
The turn offs
The skin-to-skin contact can mean you get a bit on the sweaty side, and it's not the most romantic of positions.
Difficulty rating:
2/5
You just lie down with your face in the pillow - he goes for it
Fun rating:
2/5
Your man will probably enjoy it a bit more than you, but worth a go all the same!
You say:
'It's the easiest way to reach orgasm'