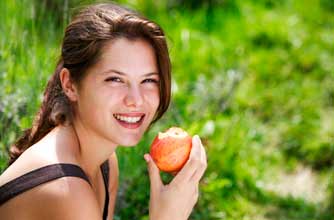 It's good to give your body a
detox
a few times a year to help flush out toxins. This
two-week detox diet
isn't just for summer and it will help you lose 7lb in two weeks by eating lots of fruit and veg.
What is the detox diet?
The
Detox Diet
is a two-week, low-fat plan that could help you lose weight and make your skin appear healthier and firmer. It's packed with fresh foods including loads of fruit and veg that will
detox
your system as you go.
If you follow the two-week plan, you can expect up to 7lb. If you repeat it straight afterwards, you could lose another 4-5lb. Each day comes with a motivating thought to spur you on!
The meal plans are low-fat and low-calorie while still being filling so you won't go hungry. This means you won't be tempted to snack and the low-calorie intake means you'll lose weight.
The
Detox Diet
is designed to release a steady stream of energy so you won't get slumps after meals. In fact, after a few days you should find you've stopped craving sugary and fatty foods. Foods like berries and oily fish will give your skin a boost leaving it looking firmer and possibly even more toned!
Who is the detox diet good for?
It's great if you have a holiday or special event coming up in a few weeks that you want to feel fab for! The
Detox Diet
is also really good for anyone who thinks their skin needs a boost.
What are the drawbacks?

You've got to really enjoy fruit and veg to follow this plan. Some of the lunch options might leave you hungry.


What do you do on the detox diet?
Follow the menu plans closely, but swap meals around if you don't like something. On top of one breakfast, lunch, dinner and snack a day, you're allowed 300ml skimmed milk in addition to any milk in the plans. Avoid alcohol and stick to water, diet drinks, tea and coffee (with milk from your 300ml allowance).

Detox Diet: Day 1

Breakfast: Half a chopped mango, topped with 150g of low fat plain yogurt Lunch: Bagged leaf salad with 1 level tbsp toasted pine nuts, 1 level tbsp grated Parmesan. 1 slice of granary bread (no spread). An orange Dinner: Grilled fresh sardines, served with one medium boiled sweet potato, broccoli, wedges of lemon. Fresh fruit salad Snacks: 4 chocolate-coated Brazil nuts or 6 cocoa-dusted almonds
Detox Diet: Day 2
Breakfast: Bowl of blueberries. 1 slice of wholemeal toast, spread with 1tsp low fat spread Lunch:Chopped peppers, carrots and cucumber, with 2tbsp houmous and 4 sesame seed breadsticks. 1 banana Dinner: Chicken and veg stir-fry: 2tsp olive oil, 1 small chicken breast, carrots, spinach, peppers and sweetcorn. One small or half a large jacket potato Snacks 4 squares of dark chocolate


Detox Diet: Day 3
Breakfast:
5tbsp Bran Flakes, 125ml skimmed milk, 6 prunes
Lunch:
Tuna & avocado salad: 6 large lettuce leaves, 6 quarters of tomato, cucumber, grated carrot, half an avocado, 50g drained tuna in brine. 1 slice of multigrain bread
Dinner:
Small chicken breast with 3tbsp salsa. Small jacket potato, salad with radishes. Two kiwi fruits
Snacks:
Handful of dried cranberries
Detox Diet: Day 4
Breakfast: Nutty fruit shake: blend 200ml skimmed milk, 1tbsp wheatgerm, 100g of fresh or frozen raspberries (or other berries), 2tsp clear honey and 1tbsp of smooth peanut butter Lunch: Medium jacket potato with 2tbsp canned kidney beans in chilli sauce, mixed with 2tbsp of sweetcorn Dinner: Vegetable curry and brown rice. Melon Snacks: Strawberries and squirty cream
Detox Diet: Day 5
Breakfast: 2 slices of toast, 2tsp low fat spread, 2tsp Marmite. An apple Lunch: 85g of reduced fat guacamole, carrot and celery crudités, 2 oatcakes Dinner: Thread a skinless, chopped chicken breast onto 2 kebab skewers with chopped pepper, mushroom and onion. Grill until cooked through. Serve with 3 heaped tbsp of couscous Snacks: Small handful of tortilla chips with 1tbsp guacamole
Detox Diet: Day 6
Breakfast: 3tbsp unsweetened muesli with semi-skimmed milk, handful of blueberries or strawberries Lunch: Large wholemeal pitta bread with 50g of cold chicken or turkey, beansprouts, tomato and cucumber. Mild mustard to taste Dinner: 150g of cooked pasta with tomato-based sauce, green beans, 2 level tbsp of grated Parmesan cheese Snacks: Two Jaffa Cakes
Detox Diet: Day 7
Breakfast: Medium slice of granary toast with half a large can of baked beans and half a chopped avocado Lunch: Mix 4tbsp of cooked rice with 1 small can of mixed beans, 3 sliced spring onions, 1/2 diced pepper, 2tbsp fat-free French dressing to taste Dinner: 100g grilled salmon fillet with 3 small new potatoes, spinach and carrots Snacks: Lemon and raisin pancake topped with jam
Detox Diet: Days 8-14
Choose your favourite breakfast, lunch, dinner and snack from the diet for the next seven days Where to next? Detox Soup Diet Find the perfect swimwear for your body shape Not sure this diet's right for you? Find your perfect diet with our quiz I tried the Bikini Detox Diet Smoothies to help you detox Back to choose a diet