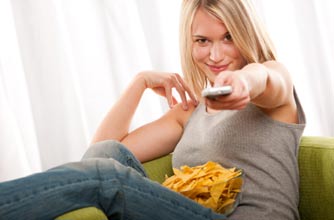 With this, it's possible to lose up to 10lbs in a month without cooking or preparing meals. Just buy low-fat, low-calorie pre-packaged food from the supermarket.


What is it?
Not everyone can - or wants to - spend hours in the kitchen slaving away on homemade meals. The Lazy Girl's Diet is the ultimate hassle-free diet. There's no need for cooking, weighing or juicing - everything in the meal plans can be bought in a supermarket.
Follow this plan for a month and you could lose up to 10lbs! It's also suitable for vegetarians.
How it works
The Lazy Girl's Diet is made up of pre-packaged food specifically created to be low-fat and low-calorie. So although you're eating ready-meals, they're the healthy ones, not the meals full of fat and salt.
The diet is designed to make sure your portion sizes are restricted and your calorie intake low. These two things combined means you should lose weight.
Who is it good for?
Busy people or people who hate cooking. Anyone whose job means they have to eat on the go.
What are the drawbacks?


Ready meals can be expensive and processed foods tend to contain a lot of salt. You're not allowed any alcohol.
What do you do?
Choose 3 meals a day from the lists below plus 1 snack. Be careful not
to skip any meals as this will leave you hungry and tempted to snack.
Drink at least eight cups or glasses of fluid a day. This will keep you
hydrated but also take the edge off your appetite. Water's best but diet
drinks and tea or coffee without sugar are fine as alternatives
Alcohol is forbidden.
You're also allowed 300ml of skimmed milk (approximately 100 cals) daily
on top of any milk mentioned in the meal plans below.
Breakfasts
A 200g pot Müller Light Cherry Yogurt, 1 medium-sized banana and 1 apple
6tbsp Fruit 'n' Fibre with a 200g pot of Total 0% Fat Greek Natural Yogurt
2 slices wholemeal toast with 1 level tbsp peanut butter, 1 Satsuma
Oatso Simple sachet (any flavour) made up with semi-skimmed milk plus a handful of blueberries
Something Xtra Green Tea & Apple Bar with 1 banana
Small individual pack of Shreddies from a variety pack with 150ml skimmed milk. Small glass orange juice
Lunches
250g pack of John West Tuna Light Lunch Tomato Salsa, 125g pot Sveltesse
Smoothie Yogurt, and 2 kiwi fruit
Marks & Spencer Count On Us Chicken & Roasted Balsamic tomato
sandwich, 1 Jaffa Cake and a slice of cantaloupe melon
Marks & Spencer Oriental & Egg Noodles Deli Salad, 1 apple
Tesco Healthy Living Tuna & Sweetcorn Sandwich, 1 satsuma
200g pack of Sainsbury's Be Good To Yourself Salsa Chicken Mini Fillets
with bagged green salad
Boots Shapers Sushi and a satsuma
Boots Shapers Prawn Cocktail, plus a Boots 'The Collection' Pomegranate
Juice Jelly studded with red grapes and pomegranate seeds
Asda Good For You! Cheese & Onion Sandwich and an apple
Dinners
Tesco Healthy Living Vegetable Lasagne, 400g and 1 banana
Sainsbury's Be Good To Yourself Easy Steam Paprika Chicken, bagged salad
with 2tsp of oil to dress
Half a 500g pack Quorn Classic Lasagne, bagged salad (no dressing),1
apple and 2 satsumas
WeightWatchers 450g Chicken, Tomato & Spinach Lasagne, bowl of
strawberries with 1tbsp cream
Marks & Spencer Count On Us Smoked Salmon Risotto Primavera with
bagged salad
Birds Eye Honey & Mustard Chicken Portion, 1 medium jacket potato
(no butter) and broccoli
Asda Good For You! 450g Mushroom Stroganoff & Rice, bagged green
salad, 1 orange
Asda Good For You! 400g Chicken Arrabiatta, pot of Müller Light Cherry
Yogurt and 1 apple
Tesco Naturally Good Food Pork With Cream & Cider Sauce with bagged
salad
Birds Eye Roast Beef In Gravy, 227g, with 2 small boiled new potatoes
and a bag of Birds Eye Steamfresh Veg, 1 pot of WeightWatchers Chocolate
& Vanilla Mousse
Snacks (choose 1 a day)
Bag of Quavers or French fries from a multipack
Müller Light Cherry yogurt
1/2 small avocado
1 apple and 2 satsumas
1 Mr Kipling French Fancy
2 Jaffa Cakes
10 Maltesers
30 seedless grapes
Boots Shapers Fruit Selection
Continued below...
Join our Diet Club
Check out our personalised Light Choices Diet Club healthy-eating plan and choose convenience meals for a busy life!
Join now