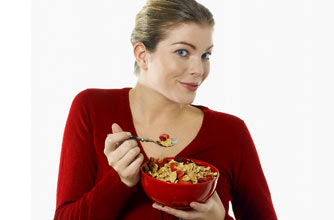 If you hate always feeling hungry on a diet, then try this one. This seven-day, low-fat plan has foods that fill you up but can still help you lose up to five pounds in a week.
What is it?
Are you sick of starving yourself to be thin? This new seven-day diet is specially designed to make sure you never feel hungry. You'll hardly know you're on a diet and you could lose up to five pounds in a week.
How it works
The foods in this diet all score highly on the satiety index (SI), a new
system that ranks foods according to how full they make you feel. For
example, according to the SI, oranges are more filling than bananas.
These foods are all low-fat too and because you'll feel full, you won't
feel the need to snack. The combination of these two things mean the
weight will drop off.
Who is it good for?
People with big appetites. People who've failed on other diets before because they were constantly hungry.
What are the drawbacks?
Most of the lunches and dinners contain meat so vegetarians will struggle.
What do you do?
Simply choose one breakfast, lunch and dinner every day for a week.
Snacking is not allowed although hopefully the meals will fill you up so
you won't feel like feel the need to anyway. Drink at least eight large
glasses of water a day. Diet drinks and tea and coffee (no sugar) are
also allowed.
Breakfasts
30g (1oz) porridge made with semi-skimmed milk and topped with a handful of soft fruit
2 rye crackers with 1 small carton of cottage cheese, 1 orange
2 thin slices of lean ham, 1 hard-boiled egg, 1 glass unsweetened orange juice
2 slices low-fat cheese, 2 cherry tomatoes, 1 satsuma
30g (1oz) unsweetened muesli with semi-skimmed milk and topped with berries
1 small carton of natural yoghurt with 1tsp honey and 1tsp mixed nuts. 1 pear
2 scrambled eggs topped with 1 slice chopped ham, 1 glass unsweetened orange juice.
Lunches
1 grilled chicken breast, large green salad with 1tsp dressing
Cheese salad made with 1/2 bag mixed salad leaves, 2 cherry tomatoes, 1
small red pepper and 150g (6oz) feta cheese drizzled with 1tsp dressing.
1 small carton of yogurt with 1tsp honey
3 slices lean beef with 30g (1oz) reduced calorie coleslaw, 1 wedge
melon, handful of mixed nuts
1 small grilled lamb chop, 30g (1oz) couscous, green salad
1 medium tuna fillet, grilled, 250g (9oz) sweetcorn and 250g (9oz)
mangetout.
1/2 avocado filled with 2tbsp prawns and 1tsp mayonnaise. 1 orange
1 smoked mackerel fillet, 1tbsp reduced calorie coleslaw and green salad
Dinners
1 grilled salmon fillet, 30g (1oz) brown rice and 250g (9oz) broccoli
1 grilled turkey breast fillet, 1 sweet potato and 200g (7oz) sweetcorn.
Small bunch of grapes
300g (10 1/2oz) mixed seafood, green salad drizzled with 1tsp low-fat
salad dressing. 1 carton low-fat yogurt with 1tsp honey
2 lean bacon rashers, 2 small eggs, scrambled, 2 tomatoes and 2
mushrooms, grilled
1 small can of tuna in brine mixed with 1 red onion, 1 red pepper and 1
small can of mixed beans. 2 scoops of vanilla ice cream
1 small grilled fillet steak, 1 sweet potato cut into wedges and
roasted, small green salad. 1 wedge melon
Spaghetti Bolognese made with 100g (3 1/2oz) lean beef mince, 1 small
can of chopped tomatoes and mixed herbs, 4 sliced mushrooms. Serve with
30g (1oz) of wholewheat spaghetti. 1 orange
Join our Diet Club
Our
Gi Diet Club plan
will keep you feeling fuller for longer and reduce those cravings with
low sugar, low fat, fibre-rich foods. It will help you loose weight
with a personalised calorie allowance and continuous support.
Join now and get 4 weeks free
Where to next?
I tried the Never Be Hungry Diet
5 Quick results diets
Healthy-Eating Diets
Find your perfect diet
Continued below...
Recipe to try:
Spaghetti Bolognese
(Pictured)