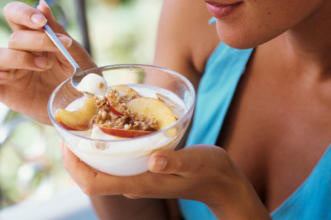 Day 1
Breakfast:
1 slice of multigrain bread spread with honey
Lunch:
1/2 small avocado, a handful of drained butter beans and a small tin of tuna in spring water
Dinner:
Prawn and peanut stir-fry: stir fry a selection of veg then add 75g prawns and 25g unsalted peanuts plus 1/2 tbsp dark soy sauce. Serve with brown basmati rice. Glass of red wine or 30g dark chocolate
Continued below...
Day 2
Breakfast:
Sugar-free muesli with semi-skimmed milk. Grate over some apple and add 1 tbsp of dried cranberries
Lunch:
Chicken, orange and fennel salad: Mix 50g cooked skinless chicken, segments of a medium orange, 1/4 of a thinly sliced fennel bulb, and 50g chopped watercress. Add a handful of walnuts and a dressing made from 1/2 tbsp olive oil, juice of 1/4 a lemon and a dash of soy sauce
Dinner:
Grilled salmon, 4 new potatoes in their skins, green beans and grilled tomatoes. Glass of red wine or a Granny Smith apple