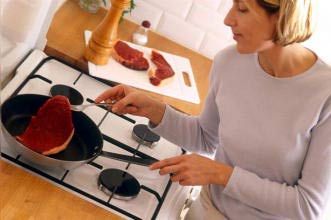 There are four main
blood type
groups and Dr D'Adamo has given a name to each one.
Blood type
O is called the hunter. People in this group should be eating a high protein, high meat
diet
as O is one of the oldest
blood types
, dating back to the time of cavemen according to Dr D'Adamo.
Blood type
A, on the other hand, is called the cultivator and supposedly evolved at a time people were starting to farm crops. Dr D'Adamo advises people with this
blood type
to follow a mainly vegetarian diet.
The nomad is
blood group
B and the only group able to digest dairy products properly according to Dr D'Adamo.
The AB
blood group
is supposedly the most recently evolved and Dr D'Adamo calls it the enigma. He says people in this blood group should have a diet somewhere between the A and B blood group diets.
What can you eat on the Blood Type Diet?
People with
blood group O
are told to eat lots of meat and fish but no dairy or wheat products.
Blood group A's recommended diet is pasta, nuts, seeds and vegetables.
People with
blood group B
get off lightly. The only foods out of bounds are processed ones although nuts and seeds aren't recommended.
AB blood group are supposed to eat a combination of diets designed for the A and B
blood groups
.
Typical day's diet
Blood type O
Breakfast: Fruit.
Lunch: Tuna with lettuce and spinach salad.
Dinner: Lean steak with roasted vegetables.
Blood type A
Breakfast: Toast with peanut butter, grapefruit juice
Lunch: Vegetable soup, two slices of wholemeal bread, dried apricots
Dinner: Lentil and green bean salad
Blood type B
Breakfast: Porridge and a banana
Lunch: Jacket potato with cottage cheese and salad
Dinner: Lamb and pepper kebabs with brown rice
Blood type AB
Breakfast: Rice puffs with skimmed milk, pineapple juice
Lunch: Mozzarella and tomato salad, rye bread, kiwi fruit
Dinner: Turkey stir-fry with brown rice
Top tip for the Blood Type Diet

Do your research before you decide to follow this diet. For example, if you're vegetarian and a blood type O, you're going to have a problem!
Join our Diet Club
Keep your blood sugars stable and banish those cravings with our
Gi Diet Club plan
and use our continuous support to motivate you with your weight loss.
Join now and get 4 weeks free
Find out more about the Blood Type Diet
Visit
www.dadamo.com
,
www.4yourtype.com
, or buy Eat right 4 your type by Peter D'Adamo and Catherine Whitney, £5.99 from
www.amazon.co.uk
.
Continued below...
Where to next?
Find out which celeb is a fan of this diet