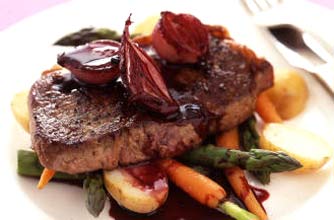 People who don't like being tied down to detailed meal plans and off-limit foods. Also good for anyone not wanting to shop and prepare separate meals to the family.What are the drawbacks?
You need to have access to a computer and you've got to find the time to fill in your food diary every day. But there is the handy option to have a food diary program on your mobile so you can keep up to date on the go (the clever bit being it can connect to your online food diary to update it).
What do you do?
After being told how many calories and how much fat to aim for in order to achieve your required weight loss, you fill in the online food diary every day being completely honest about what you've eaten. (For speed you can copy over diary days and foods). If you have a bad day, all is not lost. You can average your calorie intake out over the week or offset any slips with a little more activity. GoodtoKnow Diet Club also gives you access to handy food swap options telling you how to eat foods with fewer calories without feeling deprived. There's an online Member's Forum so you chat to other GoodtoKnow dieters for inspiration and you can even download a food diary program complete with calorie checker onto your mobile phone.
What can you eat?
Everything! There are no diet plans and no banned food so hopefully you won't even feel like you're on a diet.
Typical day's dietBreakfast:
2 slices of wholemeal toast with jam
Lunch:
Chicken salad
Dinner:
Steak and vegetables
Snack:
A Crunchie bar
Top tip:
Treat your daily calorie allowance like money. Slimming expert Dr Stephen Gullo says: 'We respect our money with good reason as we work hard to earn it. Likewise we should also respect our calories. Your body has to work hard to burn them and when you overspend, you end up wearing them!'
Join the GoodtoKnow Diet Club now and get 5 days free
Where to next?
Find your perfect diet
Read more user diet reviews
Recipes:
Steak with red wine shallots
Warm broccoli and chicken salad
Healthy eating recipes
Continued below...