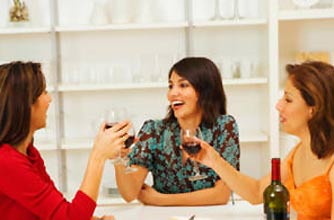 Red wine is packed full of procyanidins - chemicals that may help keep your blood vessels healthy and reduce your risk of a heart attack or stroke. A glass a day is good for you but drink any more and you could actually reverse all the good you're doing. Your absolute limit is 250ml a day, about a third of a bottle.
The foods in this diet plan are full of anti-oxidants and 'good' fats, both of which will help keep you looking and feeling younger. A Mediterranean-style diet may even protect you against cancer, diabetes and dementia.
Who is it good for?
People who can't resist a drink in the evenings. People who'd like to eat more healthily long-term - a Mediterranean diet is a varied and healthy lifestyle choice.
Continued below...
What are the drawbacks?
Most of the dinners are made from scratch so this could be time consuming. Fruit, veg and proteins like lean meat can be expensive.