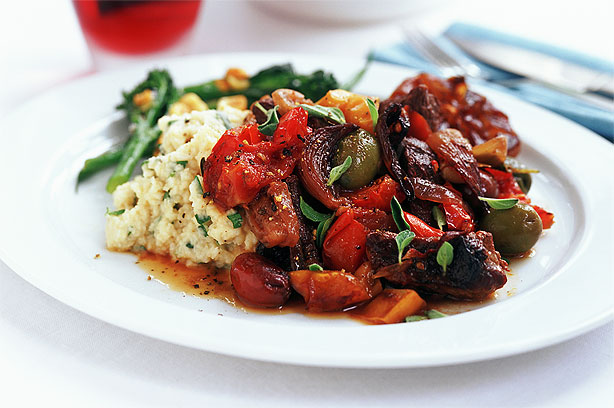 Day 5
Breakfast:
Sugar-free muesli with 2tbsp 0% fat Greek yogurt. A bowl of raspberries, blueberries or strawberries
Lunch:
Wholemeal pitta bread filled with reduced fat houmous, grated carrot, tomato and red pepper
Dinner:
Fresh tuna steak, grilled, with a salad made from 100g canned, drained cannellini beans, 1/2 a chopped red pepper and cos lettuce. Toss with 1tbsp of olive oil, a splash of red wine, 1/2 tsp mustard and 1/2 crushed garlic clove.
Glass of red wine or 250ml Concord Red Grape juice
Day 6
Breakfast:
1/2 a grapefruit, 1 poached egg on multigrain toast with grilled mushrooms and tomato
Lunch:
1/2 carton of Covent Garden Tuscan Bean or Lentil and Bacon Soup with a granary roll
Dinner:
Beef stew (serves 4). Cut 1.25kg stewing steak into pieces and brown in a little olive oil in a casserole pan. Add 450ml beef stock, 150ml red wine and 1.25kg of your favourite veg. Bring to the boil, and simmer gently for about 3 hours. Serve with broccoli and new potatoes. Glass of red wine or 100g strawberries
Continued below...
Recipe pictured is
Mediterranean beef stew