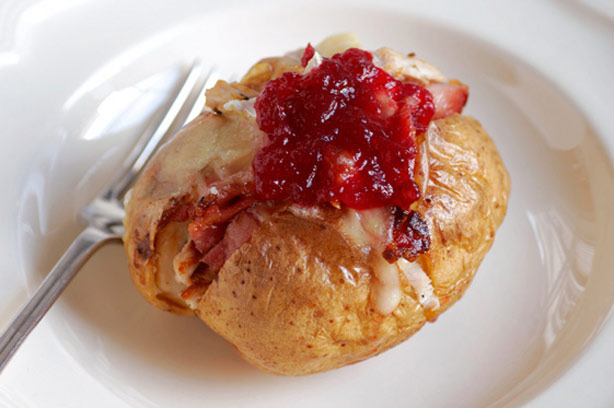 Breakfasts
Choose from:

One sachet of Oatso Simple porridge made up with skimmed milk. A small banana. V
1 slice of granary toast with a 200g can baked beans. V
McDonalds Egg McMuffin (not the sausage or bacon options)
Bowl (40g) of All Bran with 125ml (just over 4fl oz) skimmed milk. An apple. V
1 x 125ml low fat natural bio yogurt topped with two tablespoons of muesli and a handful of blueberries. V
Bowl (30g) of Kashi Honey wholegrain cereal with 125ml (just over 4fl oz) skimmed milk, 1 handful of sultanas or any other dried fruit. V
1 Jordans Apple and Sultana Multigrain Bar & 250ml bottle Innocent Blackberries & Blueberries (or Mangoes and Passion fruits) smoothie. V
1 slice of soya and linseed bread (e.g. Vogels or Burgen) toasted, spread thinly with low fat spread and Marmite. 1 x 175g Shape Solo yogurt. V
1 slice of wholemeal toast spread with 1tsp low-fat spread. Serve with 1 grilled rasher of lean back bacon, two tbsp baked beans, 1 grilled tomato and 4 grilled medium-sized mushrooms.
3 tbsp unsweetened fruit and nut muesli with 125ml (just over 4fl oz) skimmed milk. V
Lunches
Choose from:
Bagel filled with reduced-fat cream cheese. Serve with a salad of tinned sweetcorn, red kidney beans and cooked green beans. A 100g pot of virtually fat-free fruit-flavoured fromage frais. V
2 taco shells filled with green leaves, tomato and peppers, 3 tbsp canned beans and a matchbox-size lump of Cheddar cheese, grated. Nectarine. V
Half a small can of sardines in tomato sauce on two pieces of wholemeal toast. Handful of grapes.
1 wholemeal pitta filled with cold skinless chicken, watercress and 2 tsp low-fat mayonnaise.
Half a 600g carton New Covent Garden Carrot & Coriander soup & 1tbsp Kraft Philadelphia Light, spread between 3 cream crackers. Top with sliced tomato. V
One 250g pack John West Tuna Light Lunch Tomato Salsa and 125g pot Sveltesse flavoured yogurt.
Sandwich made with two slices of medium-sliced mutigrain bread spread thinly with low fat spread and filled with lots of salad plus any of the fillings below (follow with a piece of fruit such as an apple or pear):
Prawns
Reduced-fat cheese.
V
Reduced fat hummus.
V
Wafer-thin ham
Skinless chicken
Tuna in brine
A medium baked potato with any of the toppings below (follow with a piece of fruit like an apple or pear):
3tbsp baked beans.
V
Handful of wafer-thin ham and two tbsp tinned pineapple chunks (in juice)
Half a can of ratatouille.
V
Small pot of cottage cheese with chives, mixed with a grated carrot and chopped tomato.
V
Dinners
Choose from:

Broccoli and Pine Nut Pasta, Boil 100g pasta and add 125g broccoli 5
mins before the end of the cooking time. Drain and toss in 3tsp toasted
pine nuts and 8 halved cherry tomatoes plus a tsp of olive oil. Toss
well and serve immediately. Bowl of raspberries.
V
Small roast chicken breast (no skin), 2 small oil-brushed roast
potatoes (or boiled) , carrots and cauliflower. Gravy made with gravy
granules. Scoop of sorbet.
220g pack Dolmio Express Microwave Fusilli with 170g pack Dolmio Tomato
and Basil Microwave sauce. Serve with salad leaves.
V
Half a 270g Pizza Express margarita pizza with salad. Plus a bowl of fresh fruit salad. V
One 100g (4oz) grilled salmon fillet, served with a small jacket potato
and green vegetables. One scoop of sorbet.
Grilled fresh sardines. Crush one clove of garlic, rub into the inner
and outer surfaces of four gutted sardines. Grill until just cooked
through. Serve with one boiled sweet potato, broccoli, and wedges of
lemon. Half a 420g tin of Del Monte Fruit Cocktail in Juice.
150g (raw weight) lean rump steak grilled and served with 100g (4oz)
cooked oven chips; two tbsp each of mushrooms and onions 'fried' in
spray oil.
Vegetable Sweet and Sour Stir-fry. Stir-fry two large handfuls of
chopped vegetables such as onions, peppers, baby sweetcorn and mushrooms
in a tbsp of rapeseed oil. Add 3 tbsp drained pineapple chunks in
juice, half a can of canned tomatoes, squirt of tomato purée, plus white
wine vinegar and honey to taste. Bring to the boil and simmer until the
sauce has thickened.
V
Prawn Kebab. Thread 150g raw king prawns onto 2 kebabs interspersed
with chopped pepper, mushroom and red onion. Spray with a little spray
oil and sprinkle with black pepper or a little mild chilli powder and
grill until cooked through (grey prawns turn pink). Follow with a Gu 50g
Cheeky Chocolate dessert.
Snacks
Choose from:
7 roasted salted or hickory smoked almonds. V
1 pot of Muller Light Cherry yogurt
2 medium apples. V
3 slices of mango (fresh or tinned and drained) with 2 slices of fat-removed Parma ham
80g pack Boots Shapers Carrot Crunchies, one apple and a handful of grapes. V
3 teaspoons of peanut butter with carrot sticks. V
4 small squares of high quality dark chocolate with 70% cocoa solids. V
50g pack Weight Watchers cheese spread & spring onion dipper
100g prawns with one tbsp low-fat thousand island dressing
Small handful of peanuts and raisins. V
Ready meals aren't out of bounds. For an evening meal choose one
with less than 400 calories and add lots of undressed vegetables or
salad.
A bought lunch-time sandwich or salad should have no more than 300
calories. Eat with a couple of satsumas.
You can swap your daily snack for 1 x 150ml (1/4 pt) glass of red or
white wine, or two small gin and tonics (each made with 25ml (1fl oz)
gin and diet tonic)
Join our Diet Club
Our
Gi Diet Club plan
will keep you feeling fuller for longer and reduce those cravings with
low-sugar, low-fat, fibre-rich foods. It will help you lose weight with a
personalised calorie allowance and support at hand!
Join now and get 4 weeks free
Continued below...
Where to next?
Christmas Sex positions and diets
Christmas recipe guide
Christmas money saving tips