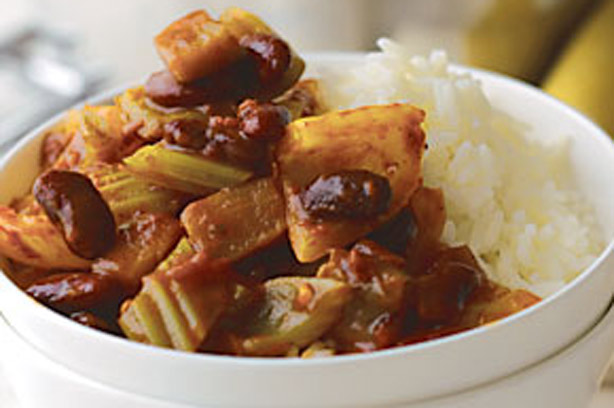 Breakfast
1 poached or dry-fried egg served with 1 low-fat beef or pork sausage (max. 5% fat) or 1 Quorn sausage, grilled, 3 grilled tomatoes and 100g grilled mushrooms (V)
Mid-morning Power Snack
2 kiwi fruits
Lunch
1/2 x 410g can Stagg Vegetable Garden Vegetable Chilli and 1 small wholegrain roll plus a small salad (V)
Mid-afternoon Power Snack
1 Dark Rye Ryvita Crispbread with 50g low-fat salsa
DinnerTomato and mushroom pasta:
Dry-fry 175g sliced mushrooms lightly with 1/2 chopped onion and 1 crushed garlic clove. Stir in 1 x 200g can chopped tomatoes plus black pepper and chopped fresh basil. Meanwhile, cook 100g (uncooked weight) tagliatelle and combine with the tomato and mushroom mixture. Serve with salad or steamed vegetables (V)
Activity challenge
Do 30 minutes of aerobic exercise (work out at a class, to fitness DVD, or on cardio equipment at the gym), or play energetic game such as football or tennis for 30-40 minutes
Do 2 x 6 reps of press-ups:
Position yourself on hands and knees, hands in line with shoulders and knees directly under hips. Pull tummy in to support back and then bend elbows, taking forehead towards floor. Lift up again without locking elbows at top
Continued below...
Read on: Day 8