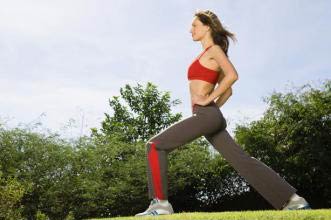 Training tips
Building in some 'training' time into your daily life can have positive effects on your weight, blood pressure and cardiac health. Keeping a healthy weight and being physically active also reduce your risk of cancer.
What should I wear?
You have 3 areas to think about - feet, body and skin.
Feet
Wearing proper training shoes when you exercise is a great investment as they are designed for comfort, provide cushioning and above all help to prevent injuries.
Body
Comfort is key. Most important is to ensure you're wearing clothing that's comfortable and allows you to move easily, and don't forget the value of a supportive bra. Reebok has a range of apparel and award-winning running shoes that have been
developed in partnership with Cancer Research UK. For more information, visit a JJB store.
Skin
In the UK we take national pride in moaning about the weather so it's important to take care not to burn in the summer sun. When you're out training between 11am and 3pm, protect your skin with clothes and a hat, and use factor 15+ sunscreen on areas it's not practical to cover.
Also:Drink
Your Race for Life event may be on a hot day, so get used to drinking on the move in training by carrying a small bottle of water.
Speed
We are all different, so when you are training, or on the day you should only think about your own pace. A good way of judging your speed is a 'talk test'. If you can chat to somebody as you walk or run you have the pace pretty much spot on - at Reebok we call this RUN EASY.
Continued below...
Race For Life