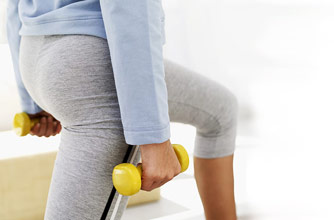 We'd all like to change at least one part of our body. Whether you want to get rid of bingo wings or flatten your belly, the best way to do it is to burn fat and tone up with exercise, sadly. But you don't have to spend hours in the gym - do it all at home!
Just choose which part of your body you'd like to work on and we'll show you five of the best fitness products you can buy to tone up and slim down the areas you want. We've chosen easy-to-use products that won't cost you an arm and a leg, and you won't need much room at home either.


So, what would you like to do?
Lose your bingo wings
Perk up your boobs
Flatten your belly
Slim down your hips
Reduce your bum
Tighten your thighs
Continued below...
Shop at goodtobuy:
Fitness equipment