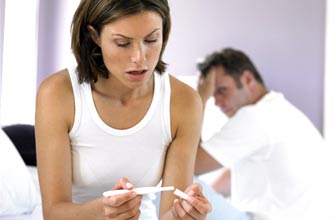 Who pays for an abortion?
You can have an abortion on the NHS but funding varies across the country. If you go private, costs vary from clinic to clinic. Usually the earlier the pregnancy the lower the cost, and the method of termination also affects the price. If you are worried about this speak to your GP or the clinic.
Making a decision
Choosing to have an abortion is not an easy decision for any woman.
Talking to someone
can really help, even if it's just a close friend. Whether you decide to go full term with the pregnancy, opt for adoption or have an abortion you may find it helpful to speak to a specialist counsellor, like someone at
Marie Stopes International.
They are the UK's leading independent experts on sexual and reproductive health. They see over 100,000 women and men each year for all sorts of services such as contraception, pregnancy testing, unplanned pregnancy counselling, abortion and health screening.
'We make sure that everyone who visits a Marie Stopes Centre has a friendly, understanding and non-judgemental experience - and that they get all the support and information they need,' says Julie Douglas from Marie Stopes International. They have a 24 hour / 7 day information and booking service, there is no wait for appointments and they can provide both NHS (by GP referral), or self referral private services. Initial consultation and counselling for abortion can be provided at the centres or you can speak to a specialist by telephone.
Continued below...
If you have a partner talk to him about your situation - if this is difficult speak to a friend or counsellor who can advise you on how to talk to your partner. Don't be scared to talk to a counsellor, they will not judge you or be shocked by your feelings or decision because they have helped thousands of women who are in a similar situation. Their advice and help is always confidential.