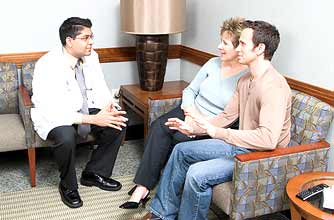 What happens next?
If you choose to terminate the pregnancy, you need to make an appointment to see your GP. He or she will discuss the options with you. Your doctor will not persuade you to make a particular decision, they have to remain impartial and keep your best interests and your health in mind. But your GP has to talk to you about the other options: keeping the baby and
adoption.
This discussion, whether with your GP or at a specialist clinic is private and confidential and you can ask for it to be left off your medical notes if you are worried that someone else will see your notes.
Sometimes your GP may have a moral or religious objection to abortion, in which case, he or she will refer you to another doctor who can help.
If you don't want to see your doctor you can go directly to your local
family planning clinic, genito-urinary medicine clinic (GUM)
or a private clinic.
Your GP or the doctor at the clinic will check that you are
pregnant
and work out by how many weeks. You will be asked about your medical history, you'll have a blood test and be checked for
sexually transmitted diseases.
In some cases you may also have an ultrasound scan, a vaginal examination and a
cervical smear test.
Continued below...
You will also be given a consent form to sign to ensure that you have been given the facts and that you are aware of the risks, and that you agree to have a termination.