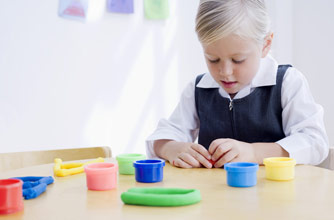 I first knew that there was a problem with Sally when she was in playgroup. She was as bright as her friends verbally, but she couldn't do the same things as them. Mix-and-match games would baffle her while most of the other kids could grasp them easily.
As she went through infants' school, the problem became more obvious. She couldn't read or write but because she was as bright as a button her teachers were quick to pass it off as her being a late-developer.
It wasn't until I went to a parent/teacher meeting when she was 5 that her teacher finally admitted to me that there was a big problem.
A test had shown up a problem with her short term memory, but still nobody used the term 'dyslexic'. Sally started getting extra help in classes with a special needs coordinator and made some progress, but as she improved, they withdrew the help as it was a state school and tight on funding.
So we decided to put her into private school. Despite the cost, we found a local prep school which seemed perfect and after assessing Sally, they seemed really positive about being able to help her. She got accepted for the start of year 3 and so we all breathed a sigh of relief.
Ordinarily we would have practised school work during the holidays, but because she'd got her place secured at the new school I let her enjoy herself. This was a big mistake. Because her memory problems were such a big part of her condition, by the time she started school in September she'd pretty much forgotten everything she'd ever learnt. She couldn't read, write, or do sums and her new teachers were suddenly very unsure of how much they could do for her.
But Sally being Sally, stayed determined and somehow managed to keep up throughout the year.
However, the decision was made to keep her back a year. It was tough but Sally once again impressed everyone with her courage. The morning after I told her she said to her teacher 'Mummy said I'll be staying back a year. I'd like to tell everybody now please' and so she did - stood up in front of the whole class and told them she was staying back a year and explained the reasons why.
By age 8, we decided to get Sally tested for dyslexia. The assessment cost £500 which we paid for. After three hours and lots of tests the results came back that she was severely dyslexic. When I told Sally the news she replied 'Well I'm pleased that I'm dyslexic because otherwise I wouldn't have gone to my new school'.
Sally's now nearly 11 and this has been her best year yet. She works so hard and is doing really well at school. Her SATS marks came back as high as someone two years older than her and she's just been awarded a prize in her school which only goes to one child every year. She really deserves it, she tries so hard and has been absolutely brilliant.
She still muddles up her words and forgets things sometimes. Today at breakfast she asked me if she could have 'the stuff that you put the milk' on because she'd forgotten the word for cereal. But when she does things like that we all just have a laugh about it - it's really very entertaining and it makes Sally who she is.
Nikky Bristow, mum to Sally, 10, West Sussex
Continued below...
Where to next?
-
Dyslexia in children
-
Dyslexia in children
-
More kids' health