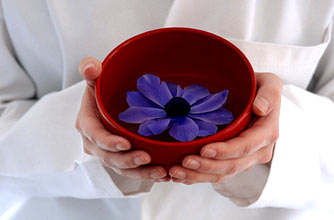 Aromatherapy
What is it?
The smell of an essential oil from a plant, flower or herb is used to treat ailments, skin disorders, minor mental health problems and mood.
How does it work?
The pure essence of a flower, herb or plant is extracted, this is known as the essential oil. The essential oil doesn't just work on stimulating the sense of smell to heal but also the chemicals in the oil. Sometimes the oils are used neat on the skin but most of the time they are mixed with a base oil, such as sweet almond oil or evening primrose oil. The aromatherapy oil is then put into a bath, made into a cream, lotion or tea, or burnt in an oil burner.
What conditions can it treat?
It's very good if you are
stressed,
feeling low
or need a mild energy boost.
Spots,
sunburn
and skin disorders such as
eczema
and
psoriasis
can benefit from aromatherapy, although there are some oils that you cannot use if you are pregnant, if you have certain allergies or if you are going to be in the sun.
Can I have it on the NHS?
No, but some cancer wards and mental health wards may offer it as a relaxing beauty treatment.
How much does it cost?
You can buy aromatherapy oils from chemists and beauty shops and salons. Prices vary but a good quality oil will start at around £5.
Aromatherapists charges vary across the country and some of them will provide a massage with their treatment.
Continued below...
Where can I go to get treatment and find out more information?
There are lots of books on aromatherapy or you could visit
www.aromatherapycouncil.co.uk