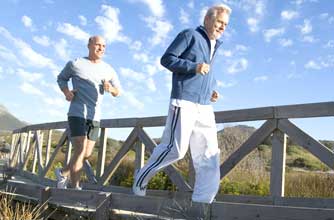 Sexual health
Even though libido and hormones for both men and women drop in their 50s sexually transmitted diseases are on the rise in this age group. So as well as taking Viagra - if that's what you want, or trying HRT, make sure you go for regular sexual health check-ups too.
Bones
You might find that you see the first signs of osteoarthritis towards the end of your fifties. See your GP and eat plenty of calcium-rich foods. Also try
weight bearing exercise
rather than endurance exercise like running.
Hair
It's likely that men who are genetically programed to go bald will have done so by the time they are in their 50s. Women will notice an almost sudden loss in volume and a coarser texture to their hair. Change your shampoo to an ultra-rich, conditioning shampoo and use a thickening conditioner or styling product.
Teeth
Although our teeth are much stronger than our relatives' 10 or 20 years ago, gum and teeth health is still a problem in this country and finding an NHS dentist makes things even harder.
Regular flossing and brushing is, of course, crucial but so are regular check-ups with the dentist.
Eyes
Eyes can become dryer and more sensitive and you might need to wear glasses for reading or driving. You might also become more sensitive to light and be unable to see colours as brightly. The old wives' tale about carrots is true! Carrots contain essential vitamins and minerals that can help poor eyesight, so make sure your diet is full of carrots and other foods for good eye health.
Skin
By the time you're in your 50s the skin ageing process has really kicked in and skin can be quite saggy, especially if your weight has fluctuated. Other than surgery there isn't much you can do but a great
diet,
exercise
and moisturising creams will make your skin look in better condition and younger.
Ears and nose
Don't laugh at nose hair clippers - you might need them! Ear and nose hair start to appear and the tip of the nose becomes longer. Ears may also get bigger too. What's more the senses are a bit duller: the mouth is dryer,
hearing
high-pitched noises can be harder, sense of taste and smell are not as sharp as they were.
Brain
Memory and reaction times get worse as you get older but it's in your 50s that you'll notice it more than before. Reading,
crosswords and puzzles
are great ways to keep your memory going. Dancing is also brilliant for the
memory
and co-ordination.
The bladder
For both men and women the bladder can begin to cause problems in your 50s, which leads to bladder weakness and in extreme cases incontinence. For women this is due to ageing and hormones and for men it's the ageing process and the fact that the prostate can become enlarged and interferes with the bladder. It's a good idea to get your prostate checked in your 50s as men's risk of prostate cancer increases.
Breasts
80% of breast cancer cases occur in women in their 50s. So, if you haven't before, now's the time to get your breasts checked and have a mammogram - it's free on the NHS to all women over 50.
Continued below...
Where to next?
- Find your condition
- More on health
- Get expert advice