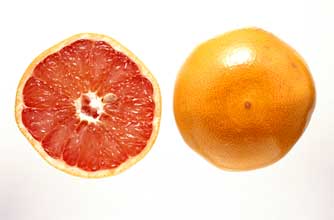 Your breakfast and lunch are the same for 7 days. Choose a different dinner from the listBreakfast
- ½ ruby grapefruit
- 1 boiled egg
- Tea or coffee
Mid-morning
- 1 orange
- Tea, coffee or water
Lunch
- ½ grapefruit
- Mixed colourful salad including peppers, carrot, celery, grapefruit segments, sweetcorn, spinach and watercress
- Make a creamy dressing of plain yogurt with lemon zest and juice
Mid-afternoon
- Hard-boiled egg
- Tea or coffee
Dinners
½ grapefruit before each meal
Choose from
1. Omelette made with 1 whole egg and 3 whites. Fill with either:
- 2 tbsp cottage cheese
- 30g grated Edam cheese
- Stewed mushrooms
- Chopped tomatoes in herbs
Serve with colourful mixed salad with creamy dressing.
2. Fillet of cod or haddock baked in milk, served with greens(spinach, broccoli, sprouts, cabbage, cauliflower, steamed).
3. Cold roast chicken breast, cubed, tossed with handful grapefruit or orange segments, served on salad as before.
4. Handful fresh scallops, seared. Toss in some ruby grapefruit segments while cooking, heat through and turn on to bed of salad. Add soy sauce if desired and creamy salad dressing.
5. Mix 100g prawns and ½ avocado, sliced, arrange on a plate with grapefruit segments. Serve with a green salad.
6. 100g Chicken breast strips with orange segments, panfried. Add 1dsp half-fat creme fraiche before serving on bed of spinach.
7. Serve 2 poached eggs on spinach.
8. Scramble 3 eggs with smoked salmon trimmings or 2 rashers bacon.
Desserts
- Fresh fruit salad, including strawberries or raspberries, and blueberries
- Grilled ½ grapefruit with brown sugar
- Orange jelly portion (homemade using fresh orange juice and gelatine)
- Portion orange or lemon sorbet
Supper (after 9pm)
Mug hot skimmed milk with honey
Continued below...
Where to next?
Your questions answered and nutrition facts